Passacaglia
13 augBuy tickets
'I want everyone to be able to experience what I experience as a violinist on stage', says Coraline Groen, young artist in residence of the Muziekzomer Gelderland 2022 and second violinist in the Royal Concertgebouw Orchestra. 'The music, the sounds, vibrations, the emotions it evokes, you are a part of it when you play in an orchestra.' In Passacaglia, Coraline Groen takes you with her in an intense performance of the Violin Concerto by Benjamin Britten: as a member of the audience you will not be seated across from, but within the orchestra. You will get to experience this piece full of emotions, sudden ambiance changes - from loving to combative and intensely sad - like you do not often get to experience music. Coraline as the solo violinist and the National Youth Orchestra conducted by Alexander Shelley will bring you an immersive 360 degrees experience that allow you to, for a while, be one with the music.
Playing Britten's violin concerto is a dream come true for Coraline. 'Playing this extremely compelling and demanding concerto is always an intense journey. All emotions pass by: optimism, combativeness, love, sadness, despair and madness. It exhausts me completely, but it also gives me enormous satisfaction,' says Coraline. 'The work intrigues me because the composer wrote it just before the Second World War. He fled to the United States because as a pacifist and homosexual he was not safe in Europe. In America, he found inspiration, but also his great love, singer Peter Pears. You hear the threat of war in this piece, but also intense love.' Yet the work is also significant without this knowledge: 'You can also just let it come over you. The music speaks for itself and you can fill in your own thoughts, associations and feelings with it.'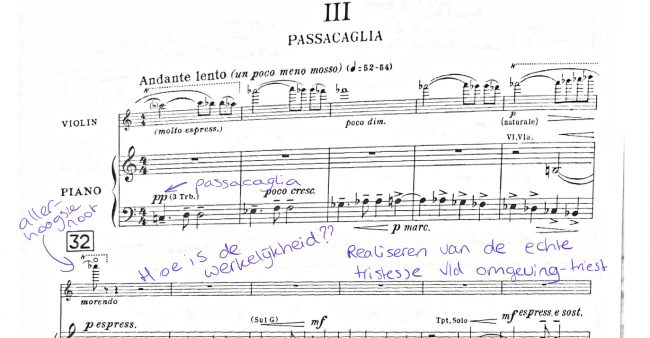 The Passacaglia was originally a Spanish dance, but also represents a compositional form in music, originating in Baroque, in which the same theme is repeated over and over in the bass line. In Britten's violin concerto, the Passacaglia is the most solitary movement in the work and at the same time the absolute highlight. Various great composers (Bach, Brahms, Webern, Stravinsky) wrote passacaglia, but it is also used Bob Dylan in Forever Young, among others.